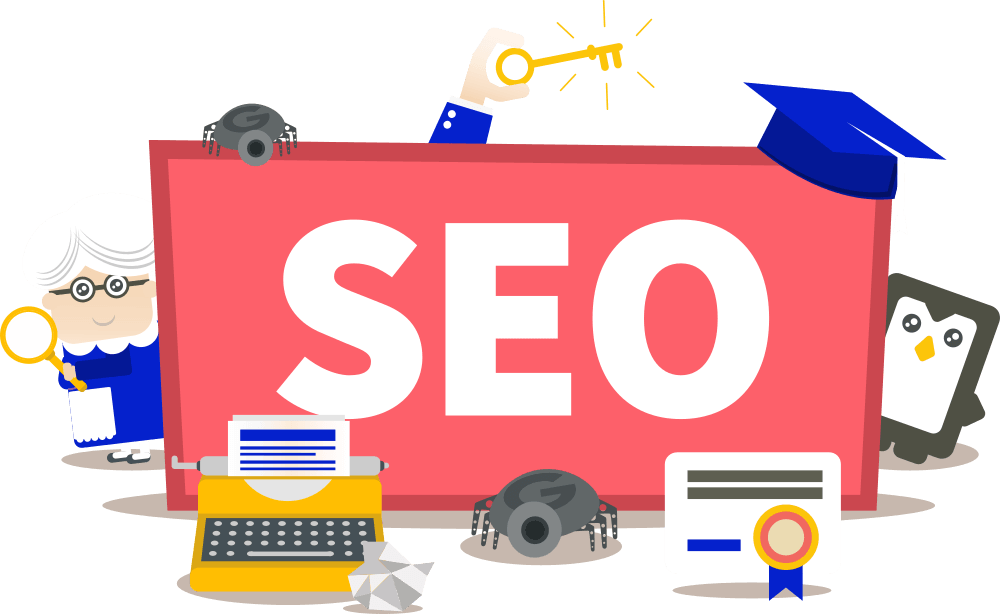 About Course
If you're like most entrepreneurs, you understand the importance of SEO but may not have the time or resources to do it yourself. You may have tried to learn from online articles and tutorials, but found them confusing and frustrating. Or maybe you've hired someone to help with your SEO, only to be disappointed with the results.
Our complete SEO training course was designed with busy entrepreneurs in mind. By the end of this course, you'll have all the tools and knowledge you need to start seeing results.
SEO stands for "Search Engine Optimization". It is a long-term marketing strategy employed in order to improve a website's visibility and organic search results in google and other global search engines. It's a process employed by webmasters to increase their site's visibility and organic traffic from search engines.
The ultimate goal of SEO is to rank well for relevant keywords and phrases that your potential customers might use when searching for a business like yours.
SEO begins with identifying the right keywords and phrases for your business. You'll want to target keywords that are relevant to your products and services, and have enough search volume to be worth targeting.
Once you've selected your keywords, you'll need to optimize your website and content around them in order to improve your chances of ranking well.
There are a number of other factors that influence how well your site ranks in search engines, including the quality of your links, the age of your domain name, and the overall authority of your site.
By ranking higher in searches, businesses can attract more visitors who are likely to convert into customers. Additionally, higher traffic levels typically lead to increased revenue.
Google regularly updates its algorithm, and as a result, SEO professionals and business owners must continually update their tactics to keep their websites and businesses ranked high. While there are many factors that go into ranking a website, some are more important than others.
Different SEO experts have different opinions on what works and what doesn't when it comes to optimizing a website for the search engines. Some may be successful with one approach and not so successful with another. That's why this course not just teaches you what I know and what my experience is. This entire course is based on a research of SERPs (Search engine result pages) compiled from 10,000 keywords for the first 3 search pages ie.. top 30 search results.
This course takes the learning process of SEO through the following path:
Introduction to SEO
When someone wants to find something on the internet, they use a search engine. But what are these mysterious creatures, and how do they work?
We'll take a closer look at what search engines are, how they work, and some of the problems they face.
Competitor Analysis and Keyword Research
When starting a new business, it is important to do your research in order to determine who your competitors are and what keywords you should be targeting.
This will help you understand what you need to do in order to attract customers to your business. In order to do a proper competitor analysis, you need to look at the following:
Your top competitors and how they are positioning themselves in the market
The keywords they are targeting
What marketing channels they are using
How much traffic they are getting from each channel
What their website looks like
What kind of content they are publishing
How well they are converting traffic into customers
Once you have gathered this information, you can start creating a plan of action for yourself. You may find that you need to tweak your branding or messaging in order to differentiate yourself from the competition.
On-Page optimization: Optimizing your content for SEO
On-page optimization is the practice of optimizing a web page or website for Google search engine ranking.
It includes improving the visibility of a website or web page in search engine results pages (SERPs), and increasing the number and quality of visitors to a website or web page from search engines.
On-page optimization generally refers to optimizing elements on a web page that are within the control of the webmaster, including: title tags, meta descriptions, header tags, anchor text, etc.
Technical SEO
In the world of SEO, technical SEO is the practice of optimizing a website's architecture and back-end so that it is in compliance with Google's Webmaster Guidelines.
This can involve anything from ensuring that your website is properly indexed and crawlable to making sure that your site's code is clean and efficient.
Technical SEO is an important part of any comprehensive SEO strategy, and it should be one of your top priorities if you're looking to improve your website's search engine rankings.
Core web vitals
Core Web Vitals are made up of three specific page speed and user interaction measurements: largest contentful paint, first input delay, and cumulative layout shift.
Largest Contentful paint is a term used in web development to describe the process of loading all the content for a web page before the page is displayed to the user.
This includes images, text, and other data that makes up the complete page. Loading all this content at once can be a time-consuming process, so many developers try to minimize it by loading only the essential content first.
The goal is to create a "fully loaded" or "contentful" page as quickly as possible so that the user doesn't have to wait long for anything to appear.
First Input delay (FID) is a metric that measures the time it takes for a user to actually interact with your page.
FID can be used to measure the effectiveness of your web page design and how quickly a user can complete their desired task.
There are a number of factors that can affect input delay, including the type of device being used, the quality of the internet connection, and the size and complexity of the web page.
Reducing input delay is important because it can improve user satisfaction and encourage users to return to your site.
Cumulative Layout Shift (CLS) is a measure of this stability. It's calculated by comparing the position of each element on the page against its original location. The lower the score, the more stable the layout.
There are several ways to improve CLS, including using smaller images and fonts, and reducing the number of elements on the page. In addition, you can use CSS to control the positioning of elements on the page.
PageSpeed SEO
Google has been talking about speed for years. It's a key part of the company's algorithm, and it's something that webmasters and site owners need to focus on if they want their sites to rank well.
But what does that mean for you? And more importantly, what can you do to speed up your website?
We'll take a look at Google's page speed algorithm, and we'll discuss some ways that you can improve your website's performance. We'll also talk about how page speed can impact your SEO and how you can use it to your advantage.
Sitemap and Google search console
If you're running a website, it's important to make sure that it's visible to as many people as possible. One way to do this is by submitting your sitemap to Google search console.
A sitemap is a file that contains a list of all the pages on your website. This page can be helpful for both users and search engines.
Your sitemap can help users find their way around your website, and it can help search engines discover and index your pages.
Demystifying backlinks SEO
In the world of SEO, backlinks are one of the most coveted commodities.
But what are they, exactly? What benefit do they provide to websites? And how can you go about obtaining them? In this section, We demystify backlinks and their role in SEO.
Backlinks are links from other websites that point to your site. They're an important factor in SEO because they help to improve your website's authority and credibility. In addition, they can also help to increase traffic to your site.
There are a variety of ways to go about obtaining backlinks, but the most effective approach is to create high-quality content that others will want to link to. You can also reach out to other websites and ask them to link to your content.
User experience SEO
User experience (UX) is the process of enhancing customer satisfaction and loyalty by improving the usability, ease of use, and pleasure provided in the interaction between the customer and the product.
UX Experience SEO is a method for improving website usability, increasing conversion rates, decreasing abandonment rates, and generally making websites more user friendly.
It's not just about making things look good – it's about making sure that users can find what they are looking for quickly and easily, without any frustration or confusion.
Good UX design makes using a website a positive experience for customers, which in turn encourages them to return again in the future.
Negative SEO
Negative SEO can be a major concern for website owners, as it can cause your site's search engine rankings to plummet. However, there are ways to protect your site from negative SEO and ensure that your rankings remain high.
One way to do this is to use a disavow tool to tell Google not to count any bad links pointing to your website.
You can also improve your website's security and make sure that it is well-optimized for search engines.


Who this course is for:

For those, who want to build their career in SEO, who already has a career in SEO
For businesses, which have a website
For those, who is working in an SEO agency or who runs an SEO agency
For those, who work as / who wants to work as SEO Analysts, SEO Specialist, SEO Manager, SEO Consultant
For those involved in Digital Marketing, and specialize in search engine optimization
Show More
What Will You Learn?
Get a complete understanding of how search engines & SEO work

Keyword research - Learn what your potential customers are searching for

Competitor Analysis - Know how your competitors are ranking

Technical SEO - Learn what the search engines look for in your site

Core web vitals - Learn what your website needs to be healthy

PageSpeed SEO - Learn how to make your pages load quickly

Submit your sitemap to Google and make it easier for search engines to crawl and index your site

Become an SEO expert and learn how to create backlinks and drive traffic to your website

User Experience SEO - Learn how to improve your website's user experience to get better rankings

Get rid of Negative SEO and stop worrying about your website's search result rankings
Student Ratings & Reviews
No Review Yet